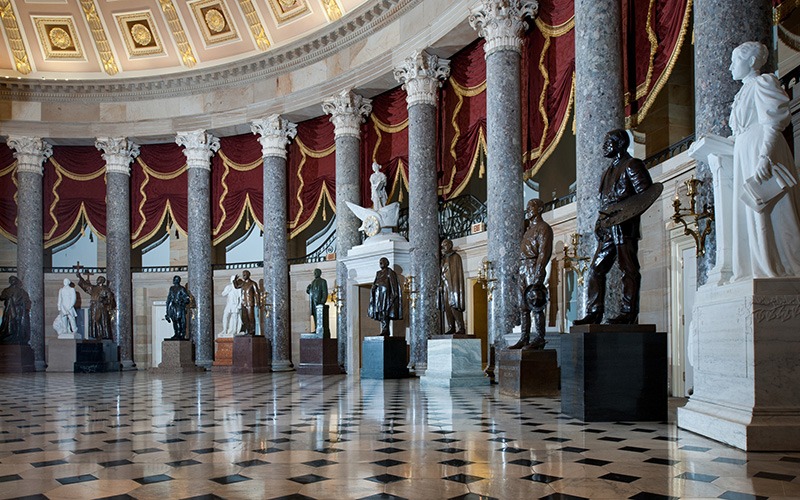 Every state is allocated space for two statues in the U.S. Capitol to honor persons significant to their history. Learn who your state—and every state—honors with this slideshow of the National Statuary Hall Collection, featuring many of our greatest elected officials, military leaders, thinkers, activists, scientists, and cultural icons.
To commemorate the U.S. Bicentennial in 1976, the U.S. Capitol Historical Society—in partnership with the Daughters of the American Revolution—commissioned artist Allyn Cox to paint murals on the walls of the U.S. House of Representatives. Learn about each mural with this slideshow of the U.S. Capitol's Cox Corridors.
Much of the U.S. Capitol's construction would not have been possible without the arduous work of free and enslaved people of color. Yet the building they constructed stands for freedom and the promise of opportunity for every American. This exhibit depicts the journey of African Americans from slavery to freedom and political representation in the U.S. Capitol.
The U.S. Capitol features many of the most famous and important pieces of art in our nation's history, from John Trumbull's "Declaration of Independence" and "Surrender of Lord Cornwallis," to paintings depicting the signing of the U.S. Constitution and President Lincoln's first reading of the Emancipation Proclamation. Explore them and many others with this slideshow of the Capitol Collection.
Like the nation for whose freedom it represents, the U.S. Capitol is always under construction to grow and strengthen its very foundation. Learn about the building of the Capitol, including its original design competition led by George Washington and Thomas Jefferson and the rising dome that Abraham Lincoln insisted be finished during the Civil War as a symbol that our Union would endure.